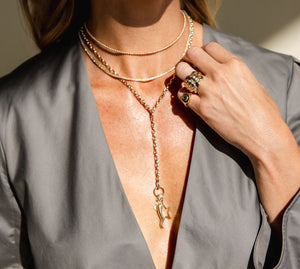 Design the one-of-a-kind
piece of your dreams.
Aside from Honeybee Collection's existing classic estate-inspired, modern fine jewelry, customers can engage owner and curator Ashley Shook through one-on-one consultation for custom jewelry design.
Whether your vision begins with an existing piece of jewelry you wish to revive or from an original idea, Ashley will bring your custom design to life through a process characterized by exceptional customer service and quality craftsmanship. 
Describe your vision to someone dedicated to bringing it to life.
Available in person or over the phone, Ashley begins with a tailored discovery process intended to capture every detail of your vision for your one-of-a-kind piece. She listens carefully, making sure to clearly understand your personal priorities for each element of design, and will offer recommendations best suited to transforming your vision into a reality.
Additionally, through this process, Ashley will briefly educate you about precious metals and stones, and about gemstone sourcing, so that you're able to actively participate in each decision-making step. That way, your personal touch will be clearly reflected in the final product.
Preview a life-like version of your custom piece. 
Based on her findings, Ashley will then create a computer rendering displaying your custom piece's actual size and detail. You'll get a true idea of what your custom fine jewelry will look and feel like in real life.
Be delighted by the finished product.
When all is agreed upon and the rendering looks just right, Honeybee Collection's professional jeweler will create your cherished and celebrated custom piece of fine jewelry.
You're sure to be delighted by the impeccable quality and unique beauty of your piece that is a reflection of your personal style.
Contact us to begin the process today